Mortgage Financial Hub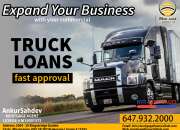 Data of ad
Published
10 of May

/ 04:50hs
Details of ads
"Are You Looking To Purchase a New or Used Truck? Are You In Need Of Financing To Do So? If So, You've Come To The Right Place. Mortgage Financial Hub Can Help You Get It.
For More Queries, Feel Free To Call!
Call: 647-932-2000 ( Ankur Sahdev )
#LoansForTheWayYouLive #NVRMortgagaes #Mortgage"